Renato, the Painter was awarded

the top prize in the 2013 Independent Publisher (IPPY) Book awards. That year the number one spot in the literary fiction category was a tie, and Eugene Mirabelli's novel shared top honors. The Awards program was created to highlight the year's most distinguished books from independent publishers.
An additional honor came later, In a twenty-year round up for a summer reading list, Renato, the Painter, was chosen as the best of the best from 2013.
---
The following review is from the premiere source that critics and book sellers alike rely on, Shelf Awareness . . .
As is the case with many first-person novels, the hero of Eugene Mirabelli's Renato, the Painter is a foundling. When a baby appears on the doorstep of Bianca and Fidele Stilamare, they name the child Renato—Italian for "reborn"—and he grows up to become an artist whose fine work has failed to receive the accolades it deserves. (The same might also be said of Mirabelli himself.)
This sequel to earlier Mirabelli novels like The Passion of Teri Heart and The Goddess in Love with a Horse is a powerful, life-affirming story, a lusty, bawdy, hilarious romp through life as recounted by Renato in his old age. As a young boy, Renato enjoyed reading one of the few books in the Italian immigrant family's home: Benvenuto Cellini's Autobiography. As he grows up, his love of girls, then women, then drawing and painting, grows stronger and stronger until he feels he must devote his life to them (all of them). He marries, but that doesn't go well; although he loves his wife deeply, they remain apart–closely apart, that is, on opposite sides of Boston's Charles River, which only makes their relationship more hilarious and frustrating.
Later, a young woman, Avalon, the daughter of a close and dear friend, comes along with her son Kim. Renato just wants to help her out, but their relationship gradually evolves into something tender and beautiful: "Her hand glided from my shoulder to my flank with a caution so gentle it startled, she had a vigorous embrace and such tenderly inquisitive fingers as to doom a young man to her touch, and I was grateful to be old." Mirabelli's lovely, poetic prose, which fills his characterization of Renato to its brim, is a joy.
"Looking back, I'm baffled that I haven't done better," Renato reflects. "I don't mean painting; I've done all right painting even if nobody knows it. But I could have given more time to my friends, could have listened more and complained less, could have been more generous to everyone." Renato has done well, has lived and loved, and has served his mentor Cellini very well indeed.
—Tom Lavoie
Shelf Talker: Once you've read this lovely novel, you'll be hunting down the rest of Mirabelli's stories, which form an extended history of the fictional Cavallu clan.
---
Who is Renato Stillamare? Renato Stillamare paints landscapes as if they were nudes, and nudes as if they were landscapes. One winter's night seventy years earlier in Lexington, Massachusetts, he was found swaddled in a basket outside the front door of a large, resourceful, passionate, and somewhat rash Sicilian-American clan named Cavallù, which adopted him. He may be the best painter of his generation, but his canvasses are no longer in demand, nor have they been for the twenty-five years since last he had a show in a Newbury Street gallery. After retiring from teaching at Copley College of Art, Renato has retreated back to his Boston studio, if retreat is the word, where he is furiously painting, painting, painting, determined to be rediscovered. A force of nature, Renato is a big-hearted, lusty, opinionated, and occasionally intemperate man of large appetites and enlarged prostate whose three children (including a daughter by his accidental mistress) are all grown up and dispersed, whose best friend (whom he misses more than anyone) died years ago, whose occasional wife (the love of his life) lives in a condo on the opposite bank of the Charles, and whose life is about to become that much more complicated when the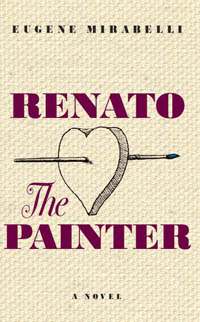 gothbedecked daughter of a former student crashes at his loft with her little boy. The uproarious story of Renato's 70th year, which he unabashedly recounts with amazement and bonhomie, is about extraordinary things simply happening to an ordinary man caught up in living life to the fullest. A funny, touching, even magical novel, Renato, the Painter is a splendid addition to such comic classics as The Ginger Man and The Horse's Mouth.
$25 cloth, 320 pages, 5.75 x 8.75", 978-0-929701-96-7
You can read a chapter from the novel if you click here, or by clicking on the title in the menu at the top of this page where it says Renato, the Painter—Opening the book…
More information about Eugene Mirabelli and his books is available on his home page at the Authors Guild website. Click here.