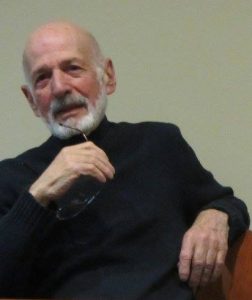 In the course of his long and productive literary career Eugene Mirabelli (or just plain Gene) has written novels which share characters and histories. The result is a rich mosaic of fictions, a mix of the realistic and the magical, and among these inter-related works are three which he has revised and assembled into the single multi-faceted novel, RENATO!
In the words of Publishers Weekly, the life and times of  Renato Stillamare have become "a blazing magnum opus."
Booklist put it this way— "A philosopher at heart, Renato expounds on everything, especially love. As he observes, the gods have given us love instead of immortality. Mirabelli is a skillful storyteller, deftly weaving all these stories into a rich, colorful tapestry of love, loss, and art. Rivaling grand opera for passion and plot, Renato! is sure to delight readers who appreciate captivating storytelling."
A RAVE REVIEW BY ROBERTA SILMAN IN THE ARTS FUSE —
"What a pleasure it is to revel in this work, which expresses enduring values in such an original way. Eugene Mirabelli…has written a beautiful and ambitious novel that will not only resonate with his generation, but also with the young, and especially with those who love really good writing. He should be a national treasure, and we are lucky, indeed, to have his enchanting Renato!."
AND ANOTHER RAVE FROM LITERARY FEATURES SYNDICATE —
" 'The gods are immortal and we are not, and no, we are not free to live like gods. We die. We don't want to be dispersed or dissolved into the void, we don't want to lose each other.' Appearing in the waning pages of Eugene Mirabelli's masterful multi-generational literary opera, Renato!, these musings on the meaning of mortality capture humankind's zest for love and life, at least, through the eyes of the titular protagonist, Renato Stillamare, a Boston-based painter and descendant of the prolific Sicilian-American Cavallùs…. Beautiful, hot-blooded, Renato! (which, it should be noted, comes from the Latin word for reborn), is a reminder that though the world may change as well as our respective places in it, love will ground us, should we choose to embrace it. …Embrace Mr. Mirabelli's captivating work and prepare to be richly rewarded.